With almost all food stores expanding their services and delivering straight to your door, grocery shopping has never been more convenient. Refrigerated lockers provide a secure storage solution for groceries, alcohol and other cold parcel deliveries. Perishable items can be delivered into the refrigerated lockers, therefore staying cool and safe until the customer is ready to collect them. Refrigerated delivery lockers are usually positioned in lobby or ground floor areas of residential and commercial buildings, making them easily accessible to all users.
Refrigerated locker access 24/7
Refrigerated lockers can be accessed 24 hours a day, 365 days a year allowing greater flexibility for the user. Packages can be delivered any time of the day or night and are kept refrigerated until a convenient time for collection.
Electronically logged deliveries
All deliveries made to the refrigerated locker are electronically logged to ensure a chain of accountability. This minimises missing parcels and provides a more accurate delivery process. 
Automatically sign for deliveries
Systems developed by My Parcel Locker are the only lockers to have the authority to digitally sign for parcels delivered by couriers. Users no longer have to rearrange their schedules to be home and sign for important food packages. Refrigerated lockers double as a virtual concierge that can receive and sign for deliveries on the behalf of the recipient.
All couriers accepted
All courier companies can deliver to My Parcel Locker systems. My Parcel Locker is the only package management solution in Australia that receives deliveries from any verified courier or delivery agent. This means more successful first delivery attempts with less lost and returned parcels.
The Demand for Fast, Contactless Delivery
Today more than ever, Australians are looking for secure contact-free home delivery as the country bunkers down during the coronavirus crisis. Continuous and daily deliveries have never been more important with large swaths of the population stuck at home.
The lockdown has seen a boost to the entire e-commerce market with the coronavirus outbreak suddenly and drastically shifting consumer habits and spending.
From January to April 2020, parcel delivery numbers in Australia have skyrocketed:
Pharmacy Items – up 285%
Alcohol – up 200%
Groceries– up 200%
Department Store items – up 184%
Zero Contact Delivery
The systems provide secure touch-free delivery with users simply scanning the QR code sent to their phone. The locker door will automatically open and they can collect their parcel without touching the locker device.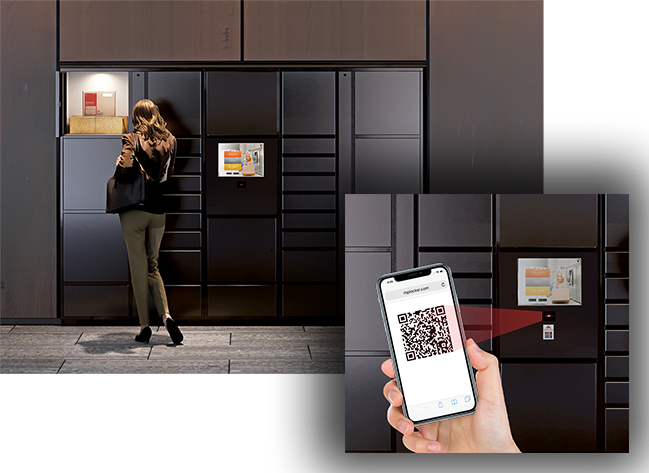 ▲ When the resident is ready, they can go to the parcel locker and collect their parcel by scanning the QR code found in their delivery notification.
Looking for a refrigerated locker system for your building? Contact My Parcel Locker for a customised solution.