My Parcel Locker (MPL) outdoor lockers systems can be installed outside to store packages, parcel mail and food deliveries.
Our range of outdoor parcel lockers are engineered to withstand the elements while protecting your package deliveries from theft. The durable, high quality, powder-coated locker systems are entirely customisable, meeting any requirements customers might have. Not only are our outdoor parcel lockers weather-resistant, they are also designed to save space, making My Parcel Locker's outdoor range the perfect solution for your building.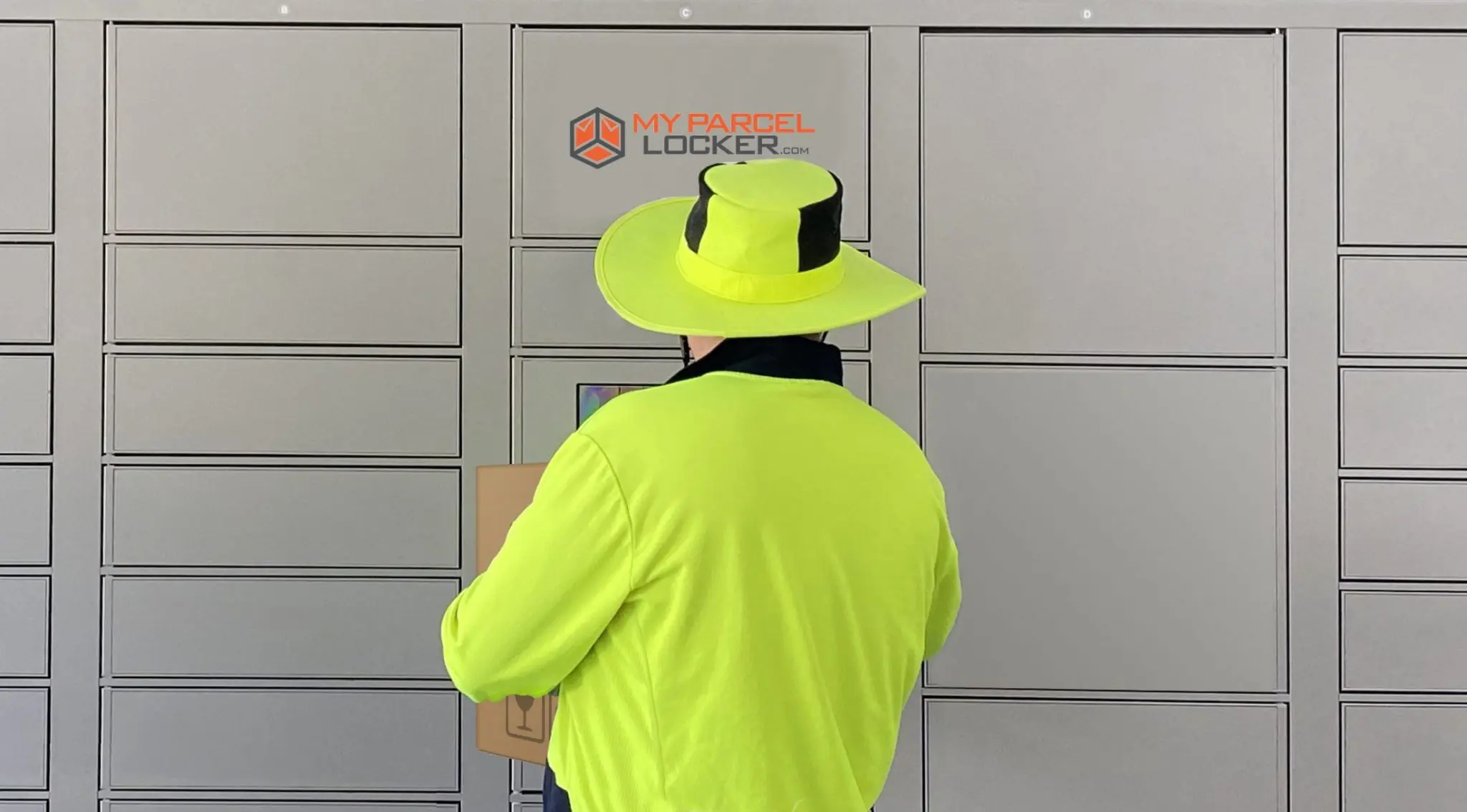 Benefits of using outdoor parcel lockers
Secure: MPL parcel lockers are powered by an uninterruptible power supply (UPS), keeping deliveries safe 365 days a year. Each parcel locker utilises a built-in security surveillance system that monitors your locker 24/7.
Strong:  MPL parcel lockers are manufactured from the highest quality Australian steel and aluminium. They are insulated, double reinforced and powder-coated. My Parcel Locker systems are designed to withstand harsh environmental conditions and fully comply with Australian standards for quality.
Smart:  One of the only locker systems in Australia that can digitally sign for parcels and packages, affording tenants peace of mind that their deliveries are safe and secure. Each compartment uses an occupancy sensor, notifying recipients of their delivered parcel via SMS and email notification.
Contactless: Today more than ever Australians are looking for fast, contactless delivery. Parcel locker users can enjoy MPL's 'touchless collection' feature. They simply scan the QR code sent to their phone and the relevant compartment door will automatically open.
Advanced: You can choose to manage your deliveries with the MPL customer mobile app.
Versatile: Multi-sized lockers will accommodate packages of all sizes.
Modular/Customisable: Choose the optimum parcel locker configuration for your building and its tenants. You can even integrate a bank of parcel lockers with a refrigerated locker bank, all serviced by the one kiosk.
Beautiful: Select bespoke decals and custom colour coding to match the aesthetics of your foyer or the branding of your premises.
Courier Friendly: MPL locker systems welcome package deliveries from all couriers.
Australian Made: All MPL parcel lockers are fully manufactured in Australia, from guaranteed Australian steel and aluminium. All components are designed in Australia. MPL have an in-house Australian software team and in-house Australian 7 day helpline/support.

Bluetooth access fobs for couriers
One of the fastest growing problems for couriers delivering parcels into residential and commercial buildings, is the ability to enter secure areas where parcel lockers are often located. This includes foyers, mailrooms, courtyards and car parks.  My Parcel Locker has developed a bluetooth fob (for verified delivery agents) that activates security doors/gates as soon as the courier is within close proximity. This unique solution provides enhanced security and flexibility.
What kind of deliveries can outdoor parcel lockers manage?
Parcels, packages and gifts
Meal kits and groceries
Alcohol, beer, wine, and spirits
Medications and pharmaceuticals.
How do outdoor parcel lockers work?
Outdoor parcel lockers manage the delivery and pickup of packages with four simple steps:
Delivery: Courier delivers parcel into the secure parcel locker device.
Recipient Notification: The parcel recipient automatically receives a delivery notification with access code (via SMS or email).
Recipient Scans Barcode: Recipient approaches the parcel locker and scans their QR code (or enters pin code), received via SMS/Email.
Recipient Collect: The designated locker door will automatically open. Recipient collects their parcel and shuts the locker door.

MPL will handle every detail of your smart parcel locker system, including:
A site inspection and space analysis, to identify a suitable location for your locker system.
A senior member of the MPL team will assist in customising a parcel locker (size, configuration, colour and design) to suit your building.
Detailed plan drawings of your custom locker.
A comprehensive Handover Pack including Sales and Support Agreement.
Full installation.
Following installation, a MPL staff member will be onsite to demonstrate how to operate the parcel locker and App.
All couriers including Australia Post and Star Track, will be onboarded and provided with access. They will also receive training on how to use the parcel lockers.
A local 7 day Support Service for locker purchasers and locker users.
Browse My Parcel Locker's Parcel Locker range here.
To learn more about MPL parcel locker products and services, get in touch with the My Parcel Locker specialist in your area.  ­Contact My Parcel Locker