A parcel locker is simply a means of receiving parcels and packages that are too big to fit into a conventional mailbox. A result of the eCommerce boom, parcel lockers are used by apartment and office tenants, post office services, retail franchises, and community organisations such as libraries.
They tend to include a variety of compartment sizes and security functions, and will often make use of smart technology.

How did parcel lockers originate?
They grew out of a need to securely store goods purchased online. All the best innovations are born of necessity, and parcel lockers are no exception. With the advent and subsequent explosion of services like Amazon and eBay, postal services were unprepared for the glut of bulky items flooding their infrastructure. A physically capable and secure system to handle this change was just waiting to be introduced.
A timeline of development
A boom in apartment and duplex property development throughout both urban and suburban areas.
More urban professionals choosing to live in apartments and duplexes
Rapid adoption of eCommerce services like Amazon, eBay, and other retailers—giving consumers the ability to purchase almost anything online and have it delivered to the lobby or front door, regardless of size
More apartment residents ordering their goods online, expecting the convenience of home delivery
Packages left on doorsteps and in foyers
Increase in package theft
Increase in parcel locker services.
Without a secure option for depositing packages, couriers and postal workers were simply leaving them on the ground floor, in the foyer, or at the front doors of houses. And, you guessed it, these packages were being stolen—It's not uncommon for thieves to follow couriers.
This created a demand for secure parcel delivery lockers, offered up by post office services, retailer 'click and collect' services, and—much more convenient—residential, on-premises parcel lockers.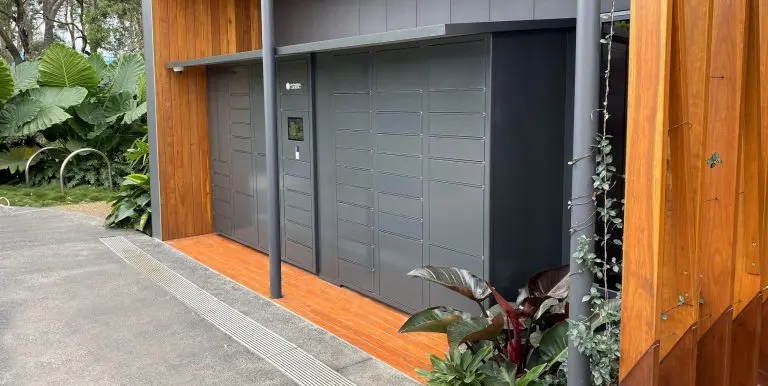 What are the common features of a parcel locker?
They can be quite broad, depending on the service. However, there are some core features that they all share.
Adequate compartment sizes
Tenants and consumers have diverse online shopping habits. Parcel locker compartments tend to be sized to accommodate a variety of parcel sizes.
Kiosk
Couriers, postal workers, and tenants need to be able to access the locker securely. Most lockers use a touchscreen paired with a barcode scanner to achieve this.
Our locker kiosks also feature the means to 'digitally sign' for sign-on-delivery packages.
Delivery Notification System
Most include some functionality to notify tenants that they have received a package, typically via email, SMS, or push notification from a proprietary app.
Our parcel lockers additionally feature occupancy sensors, triggering reminders to tenants to collect their parcels.
Security Cameras
Sadly, not all parcel locker systems feature security cameras, but we feel they should be an industry standard. All of our parcel locker products utilise cloud server-connected security cameras.

Should I use a parcel locker?
Do you shop online? Then yes.
Do you live in an apartment, duplex or unit? Then YES. Having access to a secure delivery locker eliminates that awful feeling of not knowing if your package has been delivered or stolen.
If you'd prefer to avoid the annoying second trip to 'click and collect' or the post office, we recommend an on-premises solution. Advise your body corporate that it would add functionality, convenience and value to the property.
If you are a body corporate or property developer, feel free to contact us with any questions you may have about configuration, pricing, or rental options.