Shopping in the age of COVID has redefined what we think of as a 'must-have' amenity.
Parcel delivery lockers and click-and-collect lockers are becoming a familiar sight in apartment buildings, commercial buildings and shopping centres. As retailers and logistics providers look for new ways to dispatch orders as quickly and efficiently as possible, COVID has shifted the status of parcel lockers from convenient luxury to essential amenity for tenants and residents. Let's take a closer look at how parcel lockers work and why they keep residents safe.
My Parcel Locker systems reduce contact between couriers and tenants, and are secure, reliable and easy to use.
Face-to-face contact is significantly reduced, as our lockers are able to digitally sign for parcels. When a parcel has been deposited into the locker, the recipient automatically receives a message with a QR code. They simply scan their QR code at the locker kiosk and collect their parcel. Parcels are kept safe inside the locker until recipients are ready to collect.
Parcel locker user Cass W (Toowong QLD) is a big fan of the system, commenting "I love this concept. It's really easy to use and the locker is right there at my building. Beats having to visit the post office all the time."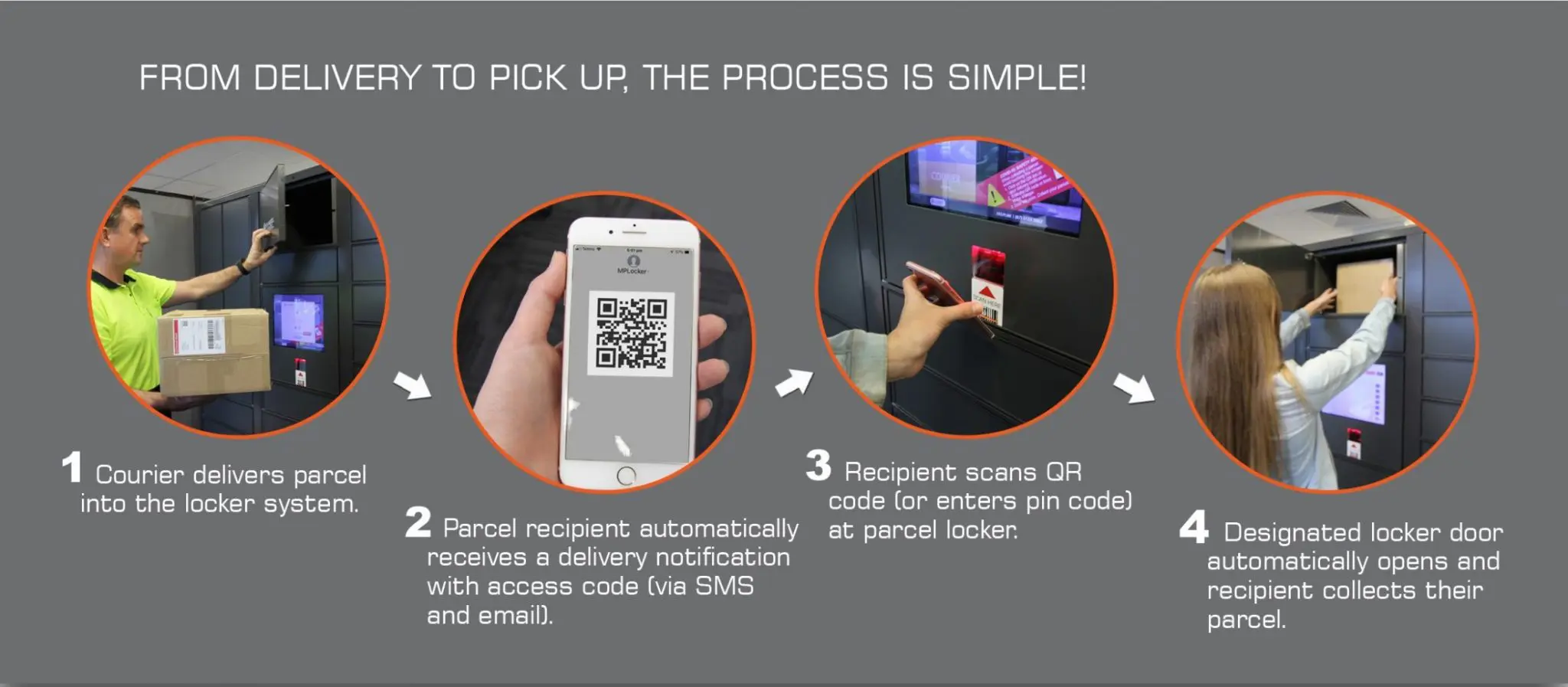 Parcel lockers are highly beneficial for Couriers, allowing them to provide fast, flexible and safe delivery. "Parcel lockers cut delivery time in half … we are no longer having to wait for recipients to come to their doors and collect parcels," explains Matthew C, parcel contractor (Moonee Ponds, Melbourne).
My Parcel Locker, one of Australia's leading locker suppliers, provides simple, safe locker solutions for all building types. The My Parcel Locker network is agnostic – meaning that any parcel contractor can deliver to our locker products, safely and securely.
MPL Co-founder Kim Kake explains: "All Courier companies want to provide a more seamless delivery process. Parcel lockers are part of the solution".
The MPL product development team is dedicated to improving and refining design according to the dictates of postal, freight and consumer trends, evolving locker systems to accommodate all delivery types. "We continue to expand our range of parcel locker systems to accommodate all types of e-commerce deliveries, from standard parcels to refrigerated grocery packages, to dry cleaning deliveries. If a courier can deliver it, My Parcel Locker can safely store it for collection by building tenants at their convenience," says Kake.
Parcel lockers give building staff and residents control and security. Discover how your building can benefit from a secure and intelligent package solution. Contact My Parcel Locker today.